I grew up baking in the kitchen with my mom Barbara, and grandmother Virginia. I discovered my love for cake decorating when I got my first job at Judy's Cakes at the age of 13, as a dishwasher (no child labor involved). She was decorating an Oscar themed cake one night and I was intrigued. I have always had artistic interests, so cake decorating seemed like the perfect fit. My cake journey started with Judy, my cake mentor for giving me the opportunity in this exciting field, on to country clubs, small bakeries in West Virginia (amazing cream pies in Hurricane), kosher chocolate shops, and even making desserts for Carrabbas and State Farm Insurance. JAMES, a bakery has definitely been a work in progress. After 17 years from my first cake, I opted to focus on my business of custom designed, sculpted, luxury wedding, event cakes, and scrumptious baked goods. Welcome to my kitchen!!!
Shout out to my dad, I made buttercream at his house one time, I was learning, burnt the motor out of his mixer, used all his bowls, and still was not finished. Probably why I have an obsession of bowls.
In memory of Barbara, Virginia, and Kathleen.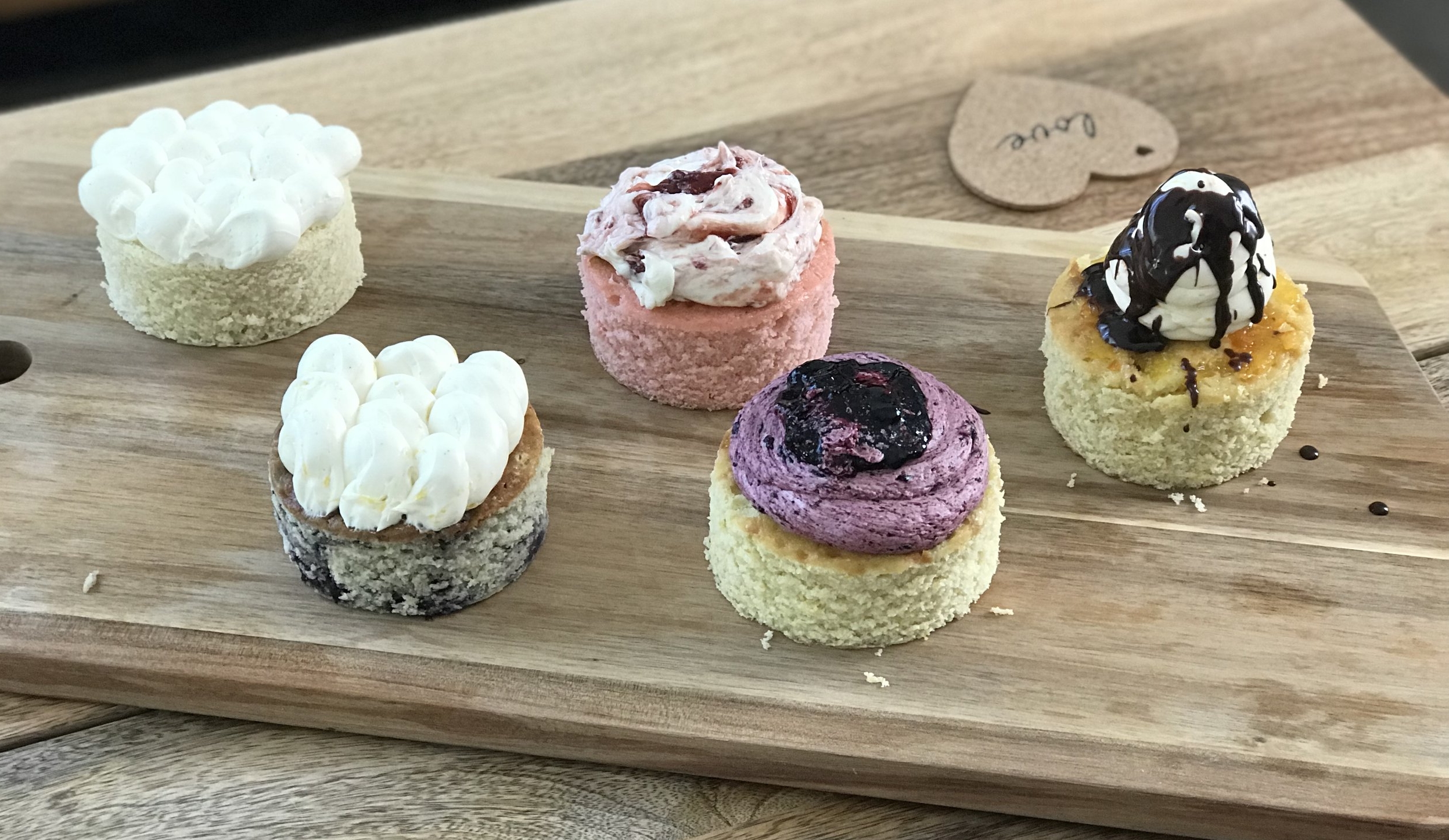 Flavors
Classic Vanilla Bean
Decadent Dark Chocolate
Grandma's Red Velvet
Classic Carrot Cake
Chocolate Chip
Toasted Coconut
White Chocolate
Guinness Dark Chocolate
Buttered Popcorn
Summer Strawberry
Cherry
German Chocolate
Pumpkin
Lavendar
Pink Lemonade
Oreo
Peanut Butter and Jelly
Mojito
Key Lime Pie
Banana Split
Chipotle Chocolate
Smores
Maple Bacon
Pear Ginger
Lemon Blueberry
Avocado
Fillings
Chocolate Ganache
Vanilla Bean
Mocha
Peppermint Chip
Praline
French Raspberry
French Strawberry
Cream Cheese
Turtle
Salted Caramel
Lemon
Amaretto
Pistachio
Bananas Foster
Banana Curry
Mango Chili
Apple Cider Caramel
Basil Lime
Ginger Lemon
Toasted Coconut
Pina Colada
Peanut Butter Cup
Ginger Bread
Pineapple Upside Down
Blueberry Buttermilk
All these flavors can be mixed and matched to your liking.
Looking for a flavor/filling that you don't see below? Use your imagination - I can always make it!
BUTTERCREAMS: Swiss Meringue and American
WEDDING AND EVENT CAKES
Because all of our designs are custom, James asks that you provide inspiration in the form of photos, color swatches, sample invitation, cakes or parts of cakes that you like, or even personalized ideas based on the people involved for the event. These items help James better understand the style and feel of your event so your cake can be craftily customized.
PRICING
In order to execute the level of work you would expect of James and of himself, all orders start at:
The minimum for an Event Cake is $150. A $50 deposit is required.
Since wedding cakes are so unique, pricing is dependent on design. A $250 deposit is required.
DESSERT CAKES, CUPCAKES, AND MORE
Pricing varies on each dessert. Contact James for more information.
CAKE INFORMATION
In order to achieve James' stunning designs, some flavors cannot be included for a sculpted cake. For example, carrot cake cannot be used because its inherent texture. James' cakes are fairly dense - similar to the texture of pound cake. Make no mistake, the cakes are moist and delicious and are limited only by your imagination for flavors and design.
CONSULTATION AND TASTING
Consultations can be scheduled for both wedding and event cakes. Tastings are usually for weddings or large events. If you would like to schedule a tasting for a regular event, please contact James. All tastings need to be scheduled 2 weeks in advance and submitted with flavors requested to try, because they are made the day the appointment is scheduled.
DELIVERY
Regular event cake delivery will be $25, and wedding cake delivery and setup starts at $50 within the Jacksonville area. Depending on event location outside of the Jacksonville area, a greater delivery charge will be applied
Pickup will be required for all other orders.
5 stars
BEST CAKE MAKER IN ALL OF JACKSONVILLE, HANDS DOWN! James has made 2 cakes for us, and both were AMAZING! Not only was the design out of this world (it looked soooo real), but it also tasted incredible! You wont be disappointed.
-Randy Erickson
5 stars
Highly recommend James, a Bakery! James has baked several cakes for me and my family and they are always the main attraction, (so cool sometimes they look unreal) not to mention delicious. His ideas/suggestions are always on point and highly efficient and professional. Thank you and I can't wait for our next celebration cake.
-Bianca Screciu
5 stars
Let me tell you, James is my hero! I had what I thought was a far fetched wish, but when I asked James, he was like no problem how about I bring you your order on Tuesday! Thanks for the best cookies ever!
-James Skinner
5 stars
He made the most amazing cake for my son everybody couldn't believe you could even eat it. THANK YOU SO MUCH JAMES....
-Greg
4 star
He has baked several cakes for me and I have never been disappointed. They are beautiful cakes and taste great.he always seems to amaze me in every thing creates he takes alot of time and pride in his work. Give him a try you will never be disappointed.
-Belinda Layton
5 star
Thank you so much for creating something so special for Bonney and Gary. She loves all of your cakes and I know this one will top them all.
-Dana
Review
James was so professional, the space was clean and welcoming.
He made us feel like his only clients. James has done several of our cakes and each one is an adventure and surprise to look forward to. Thanks again.
-Petra
5 stars
Both of our cakes (wedding and groom's cake) were exactly as we envisioned them to be. We had a Corona bottle for the groom's cake and the attention to detail was definately evident! The wedding cake was also just as we asked for! James is very professional and very friendly. James very concerned about giving you exactly what you want. We tasted a few other cakes at other well known bakers in town, but James' was by far the most delicious and most moist cake around with the friendliest people. Our guests actually brought up after the wedding how good the cake looked and tasted! Would highly recommend James for your wedding cake or favor needs!
-Stephanie
5 stars
James and his staff were true professionals. I showed James a picture of two different cakes that I like, and he was able to produce one terrific cake. It tasted better than the sample cake. LOL. My husband is in love with Koi fish. James was able to take my vision and display it with love. James was even there to cut the cake and distribute it to our guest. James you have made a customer for life.
-Nikki
5 stars
I HIGHLY recommend James Hubner for your wedding cake. First of all THE CAKE WAS DELICIOUS!!! We ordered a 3 tier vanilla pound cake with strawberry filling in one layer and raspberry filling in the other. There was nothing left of the cake at my wedding reception because my guests were asking for seconds and thirds until it was all gone. It was so good that my husband and I didn't even save our top tier like people traditionally do. After one week, we pulled it out of the freezer and ate it! The cake design was very nice as well. The wedding cake was designed just as we requested, and fit our beach them perfectly. We also had a grooms cake, which my guests also devoured. I am still hearing raves about how delicious the cakes were. James was very accommodating and provided all that we requested. I will definitely be using James for future family events!
-T
5 stars
Wonderful job, James. Lindsay loved her peacock wedding cake. It was fabulous! Groom's cake was also amazing.
Very moist cake. Lindsay loved the chocolate. The white with the raspberry filling was good too.
-Darla
5 stars
James was extremely helpful! He drew all my ideas at our first meeting, and the final product turned out even better than the drawing. (and the drawing was amazing!) I am VERY happy with my wedding cake and my Grooms cake and would recommend him to anyone!
-Devin
5 stars
Working with James, the executive Pastry Chef, was a wonderful, easy experience! Not only was the cake beautiful and right on point with what we discussed, but it was delicious! I highly recommend the vanilla pound cake with french strawberry cream filling! :)
-R
5 stars
Our wedding and groom cakes were wonderfully designed by James. Everyone was intigued by the groom's shoe cake which looked exactly like the original. After the cutting of the cake, they both disappeared soooo fast. The cakes were delicious and moist. Everything was well executed!
-Shannon
5 stars
This is a review for a cake that James created for my daughter's birthday. The cake was a sculpture of a fox sitting on top of 3 books.
I was totally awestruck with this cake. It was the highlight of my daughter's birthday party. After you had created the Five Nights at Freddy's cake for my granddaughter back in late January, I approached Sheri Lane and asked her if you could make a small cake that somehow featured my daughter Amanda's tattoo. Since she loves foxes and books, we are all avid readers, I had hoped that you could somehow put just a likeness of the tattoo on a cake, I had no idea how. Well....... The cake evolved into an unbelievable work of art. It was a delicious lemon cake with buttercream icing and blueberry buttercream filling. You are a truly talented artist, and we are blessed to enjoy and showcase your work. Looking forward to more awesome treats in the future!
-Susan
5 stars
Amazing cakes! James is so talented and very creative. He is so easy to work with and he makes cakes better than the pictures you show him for ideas!
You won't be disappointed!!
-Sheri